By Summ @ April 24, 2012 at 11:03am

Spring is here and the Rusty Hearts cash shop is heating up faster than the weather. Spring Cleaning only means one thing, Sales! Thinking about purchasing any variety of Alchemist Jars? Purchase during our 8 hours of spring cleaning bliss and you'll get one free. Not sure what Alchemist Jars do? Head to our quick guide to learn more about what they do and how to use them.
Buy one of these, get one free!

Alchemist Jar (1 or 10 Pack)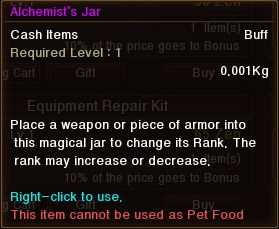 You'll have only one shot to capitalize on your opportunity to double up on Alchemist Jars, so don't miss out. Here is when you can double up:
Spring Cleaning Time
Start Time: 11am PDT / 2pm Eastern / 6pm GMT +0:00 4/24
End Time: 7pm PDT/ 10pm Eastern 4/24/ 2am GMT +0:00 4/25
Make sure to get your bonus Alchemist Jar today, there's no limit on how many you can buy!