By Summ @ April 25, 2012 at 11:07am

Our Spring Cleaning Sale continues with huge savings on one of the best weapon upgrade items available! Colorful Gems are a staple of weapon crafting and with this BOGO you'll be sure to get the exact gem you wanted.
Buy one of these, get one free!

Colorful Gem Box (10 or 30 Pack)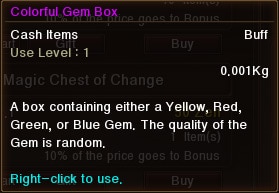 Capitalize on your shot to double your goods and increase your weapon's power. These spring cleaning sales don't last long so get your free Colorful Gem Box today!
Spring Cleaning Time
Start Time: 11am PDT / 2pm Eastern / 6pm GMT +0:00 April 25
End Time: 7pm PDT/ 10pm Eastern April 25 / 2am GMT +0:00 April 26
Make sure to get your bonus Colorful Gem Box today, there's no limit on how many you can buy!

How to Use Gem Boxes and Socketing
We've seen a lot of new players in Rusty Hearts and some may not be aware of some of the weapon/gear upgrading options. Gem boxes are a great way to increase your weapon/gear attributes simply by attaching said Gem to applicable gear.
To see if your weapon can be socketed you can hover over your weapon and locate the socketing information at the bottom of the information window. This information will tell you what color gem can be socketed with your weapon.
If your gear doesn't have a gem socket option you can always purchase a Gem Socket Punch to make this option available.
In the image below you can see we have a Blue gem socket option available to us.
Let's jam a blue gem in this bad boy and see how crazy things get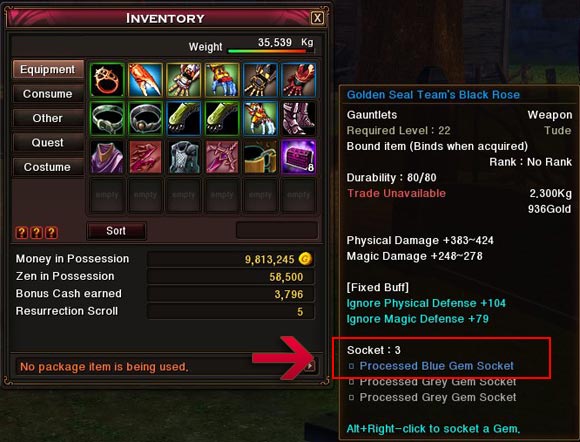 We've already purchased a few blue gems to socket our weapon. The first and often easily forgotten step to socketing your weapon is holding the ALT key and right-clicking on your weapon/gear you wish to socket. This will bring up this socketing prompt.
Find the colored gem with the attributes you want to inject into your weapon and drag it in to the socket available.
Drag the gem in to the socket and be you're set!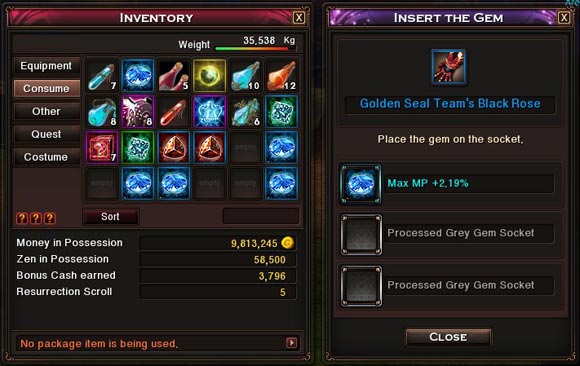 After completing these steps your weapon will now be socketed and ready for action! Just close the window and start bashing some skulls
Your weapon now has the POWAH!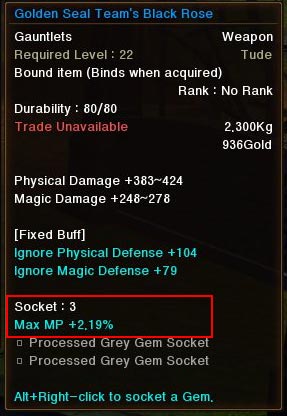 Play the Free Action MMORPG Rusty Hearts