By Summ @ April 26, 2012 at 11:06am

The BOGOs keep coming with our latest entry, Poison's Secret Box! We've already seen massive sales on Alchemist Jars and Colorful Gem Boxes, but now it's time to shake things up. Poison's Secret Box is one of our most popular Cash Shop items and for 8 hours you can get one free when you buy one during our Spring Cleaning Sale.
Poison's Secret Box is filled with fabulous items ripe for the picking. Poison's Box provides the opportunity to receive slick items including Expand Personal Warehouse, Equipment Repair Kits, Weapon Enchants and more.
Buy one of these, get one free!

Poison's Secret Box(1 or 12 Pack)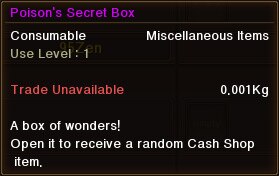 We can't emphasize how limited this sale is. This is the first BOGO we have ran on Poison's Secret Box and it may even be the last one we see for some time. Double up and double your chances to unlock something amazing.
Spring Cleaning Time- Poison's Secret Box
Start Time: 11am PDT April 26/ 2pm Eastern April 26/ 6pm GMT +0:00 April 26
End Time: 7pm PDT April 26/ 10pm Eastern April 26 / 2am GMT +0:00 April 27
Make sure to get your bonus Poison's Secret Box today, there's no limit on how many you can buy!