By Summ @ June 4, 2012 at 10:51am

Rusty Hearts is officially claiming June as the "Month of the Dragon". Sure, you've seen the infamous Bone Dragon in Dead Man's Valley, but it's time to bring a piece of that dragon in to your inventory and strap it on. Starting today if we get 25 Facebook shares we will unleash each piece of the full Dragon Costume set via Facebook Connect.
Head to our Facebook page, like it and share it with friends to increase your chance of getting this special edition costume item. Once we have reached the goal shares the items will be inserted and you will be able to wear the most bone chilling costume pieces ever seen in Bramunez. When the goal shares are hit the item will be unlocked on the Friday of that week (i.e. Dragon boots will be unlocked June 8th).
Additionally, if we hit 100,000 Likes on Facebook in June we will be giving away a limited and special edition Rusty Hearts' Bone Dragon Pet 1,000 players.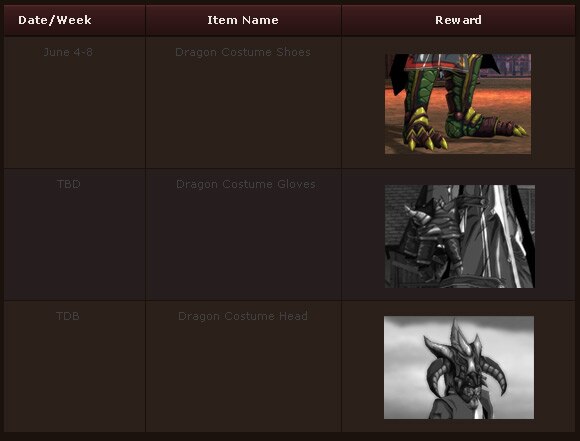 Get more details about the Month of the Dragon promotion on the Rusty Hearts Show- Episode 4 below.
Connect your account today to get your claim an item through our Facebook Connect System

Stay tuned to get more details on how and when you can get this item.