By Summ @ August 31, 2012 at 2:57pm

The Party Rock Labor Day weekend has begun and it's the perfect time to stock up on exclusive costumes and items. A few weeks ago we introduced the first costume chance boxes available for a number of Rusty Hearts' characters. This week we're blowing them out with a huge buy one, get one free on all costume boxes.
Sale Start Time: 3pm PDT/6pm Eastern/ 10pm GMT +0 August 31
Sale End Time: 12am PDT/3am Eastern / 7am GMT +0 September 4
The following items are buy one, get one free: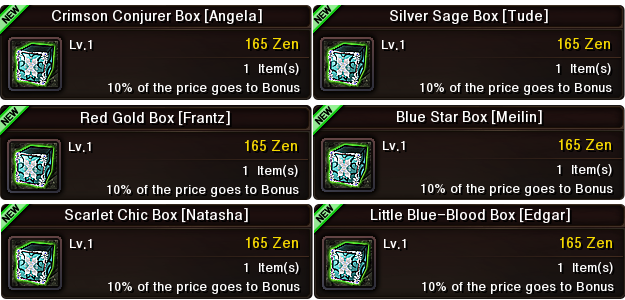 Frantz – Red Gold Box
Angela – Crimson Conjurer Box
Tude – Silver Sage Box
Natasha – Scarlet Chic Box
Edgar – Little-Blood Box
Meilin – Blue Star Box
Immediately after purchasing, your free item will be sent to your cash box.
You can purchase these items by heading to the Cash Shop –> Package Tab. You can also purchase for other characters by cycling through the character preview arrows. The shop item will change dynamically to reflect the newly displayed character.
This sale ends Tuesday morning, so act fast and get decked out this holiday weekend and celebrate Tude's Party Rock Weekend!