By Summ @ September 13, 2012 at 1:30pm

Bam! You're getting punched in the gems with our latest buy one, get one free sale. For this weekend only we're giving you Gem Socket Punches free when you purchase one at regular price. This sale is valid on 10, 20 and 50 packs of Gem Socket Punches (GSP). Keep reading to get the full details of this knockout sale.
Sale start date: 1pm PDT / 4pm Eastern / 8pm GMT +0 Thursday September 13th
Sale end date: 11am PDT/ 2pm Eastern / 6pm GMT +0 Saturday September 15th
Buy This, Get this Free!

(10 Pack) Gem Socket Punch—

(10 Pack) Gem Socket Punch

(20 Pack) Gem Socket Punch—

(20 Pack) Gem Socket Punch

(50 Pack) Gem Socket Punch—

(50 Pack) Gem Socket Punch
What do Gem Socket Punches do?
When you find an item with a gem socket you can load that particular item with a specific color gem as required by that weapon. What if your weapon has a yellow socket, but you want to load a blue or red gem? You can easily resolve this by using a Gem Socket Punch.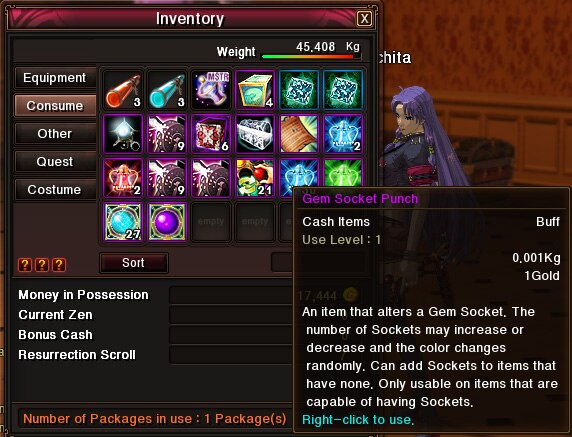 Right-click your newly acquired Gem Socket Punch and you will be prompted to load in the weapon/gear you wish to change. Once loaded, you can then resocket the item with new gem color sockets. This can be a life saver if you want to load up that critical damage gem or your any other gem piece.
Before – After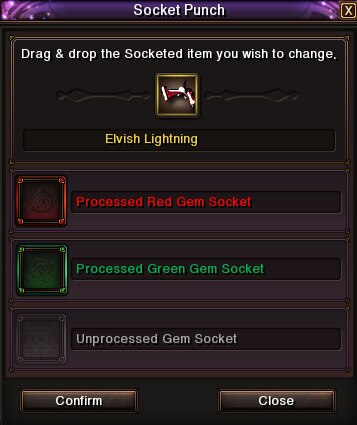 Be sure to get your Gem Socket Punches today and get new sockets in your weapons and gear! This sale won't last long, act now before we throw in the towel on this deal.